Community
Services

Ever since the inception of the school, management of Holy Child is committed towards the upliftment of the society by extending a helping hand towards orphanages, Hospitals, and Homes for the Aged, Schools, Colleges and other charitable institutions.. The staff and students wholeheartedly contribute for the same. Our aim is to make students aware and sensitive towards world issues and educate them towards their societal responsibility to their immediate community and encourage them to think beyond the narrow confines of "I" and reach out to connect compassionately with all. We firmly believe that social service is supposed to be done out of realization and reflection of others' needs and not for one's own privileges to seek reward or popularity. On an average, our school spends a huge amount on Fee concessions and other outreach programs. We have a fee concession for around 172 students and 93 of our children are studying absolutely free. We have won awards like Humanitarian Award by Indian Institute for Human Rights and NSA Award for Most Socially Active School in 2018. Some of the major activities taken up during the course of the year: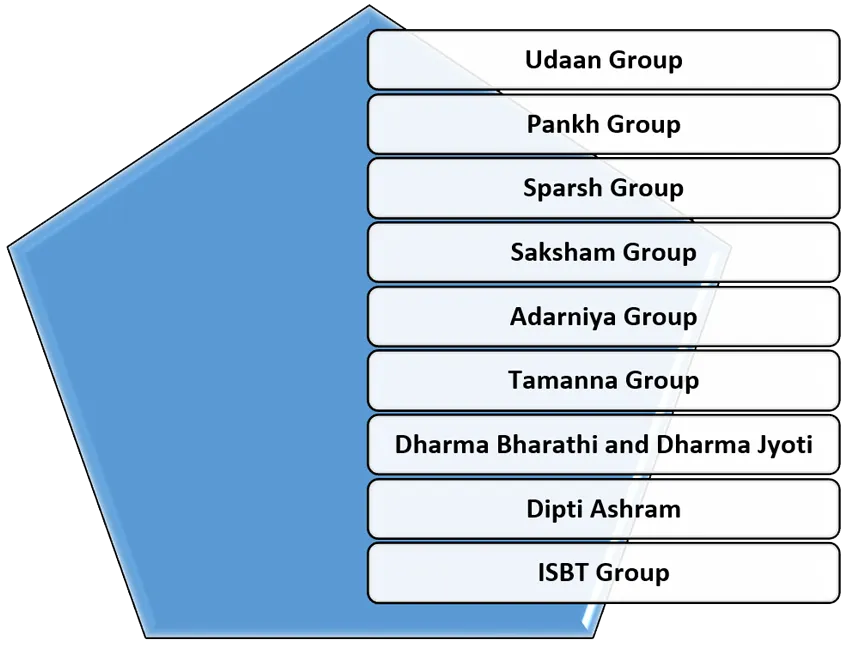 UDAAN (40 -50 students)
Student volunteers teach children from the economic weaker sections of the neighborhood to read, write and cope up with the current class. They educate them about health and hygiene habits, good behavior, verbal and nonverbal and motivate them for cooperation and teamwork. There are different competitions conducted throughout the year to enhance their creativity. Stationary items like pens, pencils erasers etc. are distributed to keep them well equipped in their classrooms.
Afternoon-Reinforcement (PANKH -35 students)
Group comprising of students of nearby MCD Schools and the Economically Weaker Section. Remedial sessions are held for them to help them in their academic progress. They are provided with stationery, clothes, gifts etc. on special occasions. On festive occasions like Diwali and Christmas, special programs are conducted for them. They are sometimes taken out for movies. An annual sports meet is organized for them every year. Importance of health and hygiene is also stressed on from time to time.
SAKSHAM-GROUP (58 students)
Certified computer classes are held after school in our computer lab free of cost for the less privileged teenagers to train them for better opportunities in life. Special facilitator teaches courses like MS Word, Excel, Photoshop etc. are taught.
SPARSH-GROUP (30 members)
Generally from the EWS category in our neighborhood is formed to promote women literacy, educating them about women's rights and teaching them vocational skills like:
How to open a bank/ post office account
Women welfare rights given by Indian Govt.
How to avail Govt. schemes.
Health hygiene and good cooking habits
Training programme on block and screen printing
Making craft material with best out of waste.
Tailoring-Programme (50 young girls/women)
This programme is specially designed for girls/ women of the nearby community and focuses on measurements, basic hand and machine stitches, designing, layout and alteration.
Soft toy making,
Pickle and jam making
Adarniya-Group
Around 27 elderly people of the neighbourhood have been adopted by our staff members and they are provided with monthly ration. On the festive occasion of Christmas, they are felicitated with some gifts and refreshments and a brief programme.
TIHAR JAIL/ OLD AGE HOMES/ORPHANGES
To promote the feeling of creating value in community welfare, students are taken to meet children at orphanages, the sick and elderly at old homes, inmates of Tihar Jail etc. to evoke in them a feeling of empathy and compassion, patience and understanding.
TAMANNA-GROUP
Tamanna is a rehabilitating centre for destitute women. Most of these women are victims of abuse and abandoned by their family members. Class XII Community Service and Dharama Jyoti students organise short program, games and felicitate them with gifts like dal, rice, warm clothes, shoes, bags etc. a few girls are also being given Secretariat Counsel Practice.
PRAYAAS–AN EFFORT
Spoken English and personality development classes for around 15 students from the age group of 15-18 are conducted.
DIPTI ASHRAM1
Students dedicatedly work with Dipti ashram in Najafgarh. Inmates were gifted washing machine recently.
DHARMA-BHARATHI AND DHARMA-JYOTI
Dharma Bharathi is a Socio–Spiritual Federation for New Indian Renaissance and Global Peace. In the Dharama Bharathi wing our staff takes initiative to help elderly women of the neighborhood, by inviting them on festive occasions and arranging a small programme for them by singing and dancing, providing them with refreshments and other gifts like sarees, shawls cardigans blankets etc. The student wing of this programme is called Dharma Jyoti.
eX-Rays
This alumni association is connecting alumni, school and community by donating things like fridge and washing machines to various NGOs.